SK Prepares for the 150th Memorial Day Parade
By ALLIE LEWIS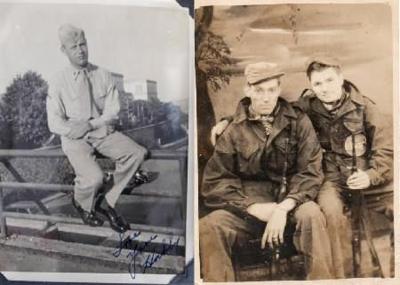 SOUTH KINGSTOWN – In a few short days, two grand marshals will march in the town's 150th Annual Memorial Day Parade. The grand marshals, both of whom served in the Korean War, have been members of the Veterans of Foreign Wars (VFW) Post 916 for more than 60 years.
The honor of grand marshaling the significant anniversary will go to Billy Forbes and Dick Ellsworth. The Post's Commander, Joe "Tiger" Patrick described both men as beloved members of the community and local treasures.
"One of the things that soldiers, when they're deployed, one of the things that they fight for, hope for and aspire to have is come back home and live a normal, loving life – not everyone gets to come back that way," Patrick said. "Bill and Dick embodied that very ideal situation for any and all veterans that deploy. That's why they're fighting, but that's also what they dream to have when they get back."
Forbes, who's been a member of VFW Post 916 for 63 years, joined the Air Force the week following his graduation from South Kingstown High School. He enlisted in the middle of the Korean War and wound up being stationed on top of Old Smokey Mountain, where he made sure communications went through between air, land and sea forces.  
During public comment at a town council meeting in late March, Patrick took a few moments to recognize the achievements and service Forbes has given to the community and the post over the years. In those moments, Patrick also publically awarded Forbes with the post's Veterans Ambassador of the Year Award. 
"You are very deserving of more than love," Patrick said to an emotional Forbes. "He's a town treasure. Billy joined, he didn't jump or question anything. He volunteered to serve this country."
"He's our town treasure," Patrick repeated. "I wanted to recognize that, because I don't know how long you're going to these meetings, and you know what Billy, I wanted it to be on public record how important you are to this town, to me and to so many."
Known by many throughout town for his years of service with the local Department of Motor Vehicles, giving an entire generation of kids their driving tests, Forbes has kept busy in retirement with many part-time jobs, notably operating the cameras at every town council meeting. 
"I don't think I've met anybody who's as upbeat and happy as Bill is, nearly all the time," said South Kingstown Town Councilman Joe Viele. "He's got a great positive attitude and it's great to be in his company."
"I want to be like him when I grow up," Viele added. 
Ellsworth, who also enlisted while the Korean War was in full swing, served in the Marines and was trained in artillery. His unit made their way to Korea on a transport ship, which made several stops in the Mediterranean Sea while en route. Following his tour, Ellsworth came to South Kingstown 1958 to settle down and start a family with his wife Carolyn. They raised five daughters together and have been together ever since. 
"He's just such a nice guy," Patrick said, who's known Ellsworth for most of his life. "Him and Billy are probably the two sweetest souled gentlemen of our community. We're going to lose a lot when they go."
In the three decades Patrick has known both men, he's never seen them raise their voice or get angry. In their free time, both devoted their energy and efforts to helping the community.
Patrick recalls how actively involved Ellsworth was in helping organize blood drives and clothing drives for those in need. In 1962 the Narragansett Times published a photo of Ellsworth and one of the post's former commanders posing with dozens of bags collected for the World Clothing Fund. 
For years, Ellsworth worked at the First National Store until it closed, and later the Wakefield branch, now Arnold Lumber. He has been a member of the post for 61 years, and at one point also served as commander. 
To mark the special anniversary, United States Senator Jack Reed will speak at the parade's ceremonies, set to kick off at 10 a.m. on Monday morning. 
Weather permitting, the parade route will begin on Holley Street behind Old Mountain Lanes, travel down Main Street and end on High Street at Saugatucket Park, according to parade committee member Steve Stewart, who's been running the parade since 1985. In the event of rain, the ceremony meant to take place at Saugatucket Park will be held at the high school for 11 a.m. to commemorate and honor veterans who've served.